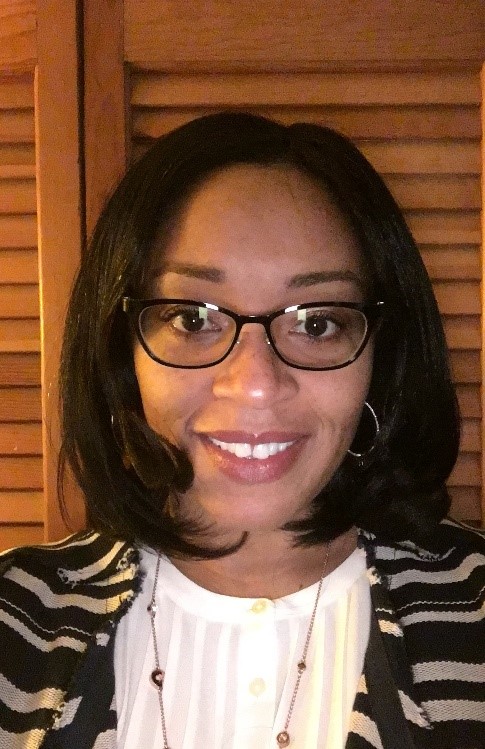 Associate Professor
ETV 104
302.857.6645
ndedwards [at] desu.edu
Education
PhD. Curriculum and Instructions, Mathematics Education Concentration, University of Delaware (2007)
M.S. Mathematics, University of Delaware (1999)
B.A. Mathematics, Binghamton University (1995)
Research Interests/Area
As a Mathematics Education faculty member, my current research focuses on teaching to develop mathematical proficiencies in K-12 pre-service teachers, especially students from underrepresented and underprepared groups. In particular, I examine the impact of content and methods courses on pre-service teachers' perception of effective teaching practices to promote mathematical literacy.
Professional Memberships
National Council of Teachers of Mathematics (NCTM)
National Association of Mathematicians (NAM)
Publications & Presentations:
Edwards, N. D. (February 21-22, 2018). Cyber Infused Mathematics Initiative: Mathematics Teaching Institute. Poster presented for the 2018 HBCU-UP Crest PI/PD Meeting, Washington DC.
Edwards, N. D. (July 19-21, 2017). Problem-Based Learning for Future Teachers, Delaware State University Robert Noyce Teaching Scholarship Program.  Poster presented for the Noyce Summit 2017, Washington, DC.
Edwards, N. D. & Johnson, D. (2017) Using Tasks that Support Access and Rigor. Presentation for the Putting Principles into Action Math Equity Conference, Delaware Mathematics Coalition and Delaware State University, Dover, Delaware.
Edwards-Omolewa, N. D. (2011). Gender differences in elementary school children's strategy use and strategy preferences on multidigit addition and subtraction story problems.  Investigations in Mathematics Learning, 3(3), 1-25.
Honors & Awards
NSF HBCU, "Targeted Infusion: Cyber Infused Mathematics Initiative", PI, 2015-2018.
NSF Noyce Teacher Scholarship, "Delaware State University Scholarship for Teachers in Mathematics and Science", PI, 2012-2017.
College of Mathematics, Natural Sciences & Technology Teaching Excellence Award 2014
Delaware State University Faculty Excellence Award in Teaching 2011
Teaching
MTSC 403 Methods of Teaching Secondary Mathematics
MTSC 241 Elementary Statistics
MTSC 225 Calculus for Business and Social Sciences​​​​​​​
MTSC 213 Discrete Math​​​​​​​
MTSC 205 Math for Teachers III​​​​​​​
MTSC 125 Finite Math​​​​​​​
MTSC 122 Trigonometry​​​​​​​
MTSC 121 College Algebra​​​​​​​
MTSC 106/202 Math for Teachers II​​​​​​​
MTSC 105/201 Math for Teachers I